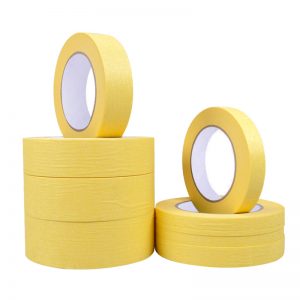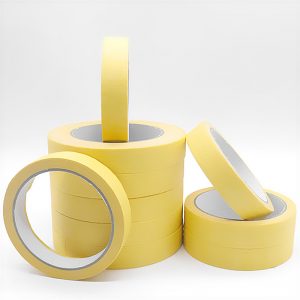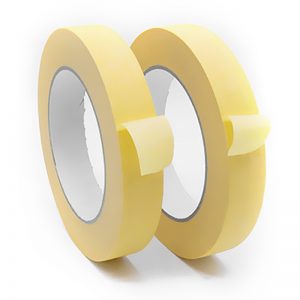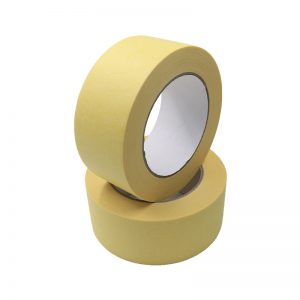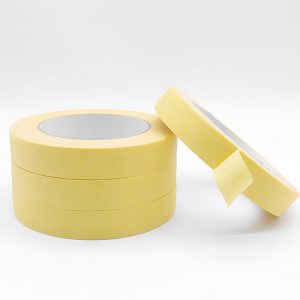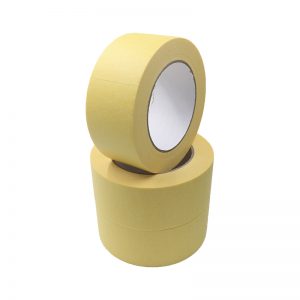 Product Description:
Material description
General physical characteristics
The type of

glue

Synthetic rubber
Adhesion to steel

plates(stripping)
GB/ t2792-2014 (20 minutes)

≥3.5 N/25

mm

Retentivity
≥2hr
Substrate
Masking tape
Static shear force

(hold)

GB/T4851-2014

(24×24 mm)

 ≥6%
Thickness
Synthetic

rubber

0.06 mm
(60μm)
Masking

tape

0.08 mm
(80μm)
Initial adhesion

(initial adhesion)
(14# steel ball)

≥80mm
Amount

to

0.140mm

(140μm)

Solvent

resistance

Good
Color
Rice yellow/Rice

white

Temperature

tolerance

60℃
Expiration date
The original packaging, since the right to hold the
delivery within 12months, in 21 ℃ (70 ℉),

and 50% relative humidity

environmentpreservation

Feature
Masking paper tape with water-based rubber,soft and fit,no

residue,high adhesion,easy to tear,can be written on.

Application
Widely used in indoor and out door painting shelter,furniture

protection,glass edge,wire wrapping,interior decoration

and other fields.
Application areas of masking tape:
The tape is made of imported white textured paper as the base material and coated with weather-resistant rubber pressure-sensitive adhesive on one side. It has excellent properties such as high temperature resistance, solvent resistance, and no residual glue after peeling! Products meet ROHS environmental protection requirements. It is suitable for high-temperature baking paint and spray paint shielding protection on the surface of automobiles, iron or plastic devices and furniture. It is also suitable for electronics, electrical appliances, varistors, circuit boards and other industries.
Operation note:
The adherend should be kept dry and clean, otherwise it will affect the bonding effect of the tape;
Apply a certain force to make the tape and the adherend get a good combination;
After its use function is completed, the tape should be peeled off as soon as possible to avoid the phenomenon of residual glue;
Adhesive tapes that do not have the anti-UV function should avoid sunlight and the phenomenon of residual glue;
Five, different environments and different sticky objects, the same tape will show different results; such as glass. Metals, plastics, etc., must be tried before being used in large quantities.
What are the selection techniques for masking tape:
People's lives are inseparable from skills, and the existence of various skills may make us even more powerful. Posting beautiful paper is one of them. In fact, people need to have a better understanding of posting beautiful paper in their lives. Many people do not have a deep understanding of fine paper, but you must know that you need to master certain skills if you want to paste fine paper, and this skill is very important in life, so apply the masking paper technique and masking tape What are the selection techniques?
Tips for applying masking paper
The masking paper must be easy to clean, and it must be evenly mixed during the mixing process.
Tile beautiful seam skills-remember to stick masking paper. Remember to stick masking paper when you are beautifully stitching tiles, especially for paving antique tiles. If you don't use masking paper to isolate the beautifully stitched products, it is very difficult to clean up. Some friends think that after the tiles are beautifully seamed, just wipe off the excess beautifying agent. In fact, this method will destroy the adhesiveness of the beautifying agent.
Tile beautiful seam skills-pay attention to mixing evenly. Ceramic mud is a two-component oily material, and it needs to be fully stirred manually to solidify. If the mixing is not uniform, it will not be able to dry out during construction.
Tile beautiful seam skills-prepare a good glue gun. A good glue gun must be prepared for the beautiful stitching of ceramic tiles. If the quality of the glue gun is not good, half of the stitching is done. If the glue gun is broken, you can only squeeze the hose by hand, which is time-consuming and laborious. The remaining ceramic mud in the hose cannot be squeezed out, resulting in a waste of materials. Good quality glue guns will not have such problems.
Tile beautiful seam skills-the construction direction is also exquisite. Before the beautiful seam construction, paste the textured paper on the side of the horizontal seam first, and then paste the vertical seam after the construction, so that the beautiful seam is made in one direction, and the efficiency is much faster.
What are the selection techniques for masking tape
Appearance color. When choosing the masking tape, we can observe the color of the appearance of the masking tape. The appearance color of a good masking tape should be uniform in color and there will be no colors mixed together. A good masking tape has very good temperature resistance and solvent resistance, so its paper must have a certain degree of impermeability and flexibility.
Product performance. After seeing the appearance of the masking tape, the next step is to look at the tensile properties and tensile strength of the masking tape. The specific operation method is: we can hold the masking tape in our hand, and use the other hand to pull the other part. We can tear off a piece of masking tape first. Then pull the torn section hard to see if it will break. We all know that a good masking tape has tensile properties and is not so easy to be broken. If it is broken all at once, then it is certain that the quality of this masking tape is not very good.
Stickiness. Good masking tape is very sticky. We can shake it after pulling it apart. Good masking tape will not roll down immediately. To test the adhesiveness of the masking tape, we can also stick the masking tape on the surface of the object, and then quickly pull it apart. After repeated several times, we can see how sticky the tape is. See if its stickiness has changed.
What are the techniques for applying masking paper and the selection of masking tape? After the above detailed expressions, everyone has a deeper understanding of some skills. For everyone, only by fully mastering these skills can people have a better development direction. Therefore, in the face of various skills, we absolutely We must not be sloppy, we must fully grasp it. I believe that after mastering the skills, sticking masking paper will be much easier.