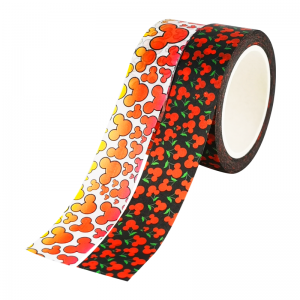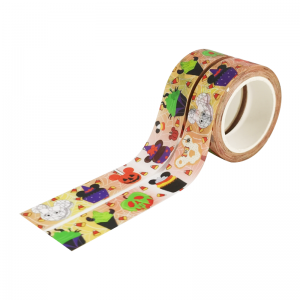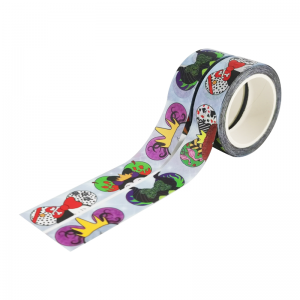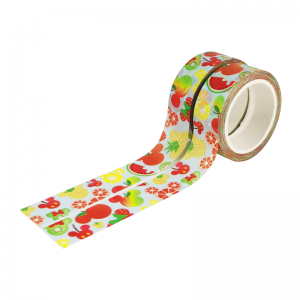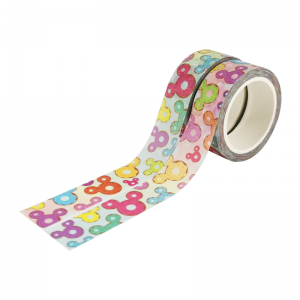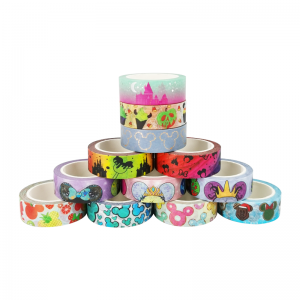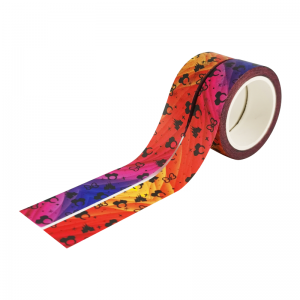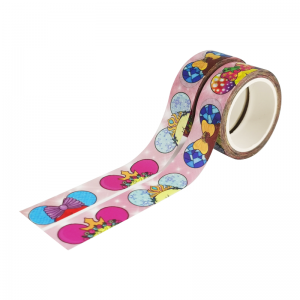 | | |
| --- | --- |
| | |
| | CMYK / Gold foil / Silver foil / Holographic / Glitter / Stamp / Die Cut / Overlap / Clear foil / Clear printing / Hollow / Glow / Sticker / Postcard / Sticky Note / Memo |
| Custom Colors | Various colors can be printed |
| Custom Width | 3mm ~ 294mm are available |
| Custom Length | 1m ~ 200m are available |
| Custom Patterns | Any patterns can be printed |
| Custom Perforated Lines | 38.1mm,120.65mm,162mm are available |
| MOQ | 100 rolls per design |
| Custom Package | Shrink Wrap / OPP Bag / Paper Box / Can be customized |
| Custom Materials | Japanese washi paper |
| Adhesive | Acrylic |
| Adhesive Side | Single Sided |
| Features | Easy to tear,easy to remove,no residue |
| Application | Diy,cards,gift wrapping,scrapbooks,planners,home decoration and so on |
What are the functions of tape?
The role of tape:
BOPP sealing tape
The sealing tape uses BOPP as the base material, and one or both sides are coated with a pressure-sensitive adhesive. BOPP is a biaxially oriented polypropylene film. It is transparent and glossy and can be printed. It is mostly used as the base material of sealing tape, and the thickness is between 12μ and 45μ.
Transparent box sealing tape is suitable for carton packaging, parts fixing, sharp object bundling, artistic design, etc.; colored box sealing tape provides a variety of colors to meet different appearance and aesthetic needs; printing box sealing tape can be used for international trade sealing For well-known brands such as express logistics, online shopping malls, electrical appliances brands, clothing shoes, lighting fixtures, furniture, etc., the use of printed box sealing tape can not only improve the brand image, but also achieve a advertised effect.
Scotch tape
Transparent box sealing tape is a two-way stretched polypropylene film (BOPP film) as the base material, and a pressure-sensitive adhesive is uniformly coated on one side of the base material. It is usually divided into two types: transparent white and beige. Generally used for office and sealing purposes.
Kraft paper tape
A long time ago, people really made it out of calf skins. But later, because the price was relatively expensive, and because the development of mankind understood chemical synthesis, people used wood fiber to synthesize, and then subjected to special chemical treatment to form paper with an appearance and color like cowhide.
Kraft paper tape is mainly used in industry. (For example, the shielding of carton printing, the surface treatment of clothing, the packaging of heavy objects, etc.)
Masking tape
Masking tape is also known as masking paper and masking tape! Use masking paper as the base material and coated with pressure-sensitive adhesive. The strength of the adhesive is its main performance, because it allows repeated use and does not leave glue; universal It is used for decorative purposes in the field of shading.
It is suitable for high-temperature baking paint and spray paint shielding protection on the surface of automobiles, iron or plastic devices and furniture. It is also suitable for industries such as electronic and electrical varistor circuit boards.
Cloth tape
The cloth tape uses the thermal composite of gauze fiber as the base material, and is coated with polyethylene high-viscosity glue on one or both sides. It has strong resistance to peeling, tensile, waterproof, anti-corrosion, and high temperature aging resistance. An insulating adhesive tape.
Cloth tape is mainly used for carton sealing, carpet stitching, heavy strapping, waterproof packaging, etc. At present, it is also frequently used in the automobile industry and the papermaking industry in the electromechanical industry. It is used in places with better waterproof measures such as automobile cabs, chassis, and cabinets. Easy to die-cut processing.