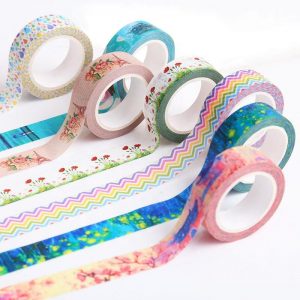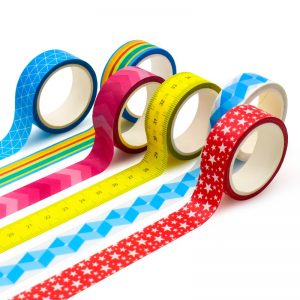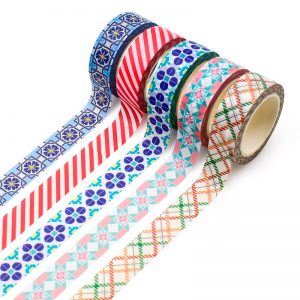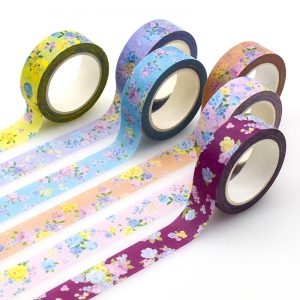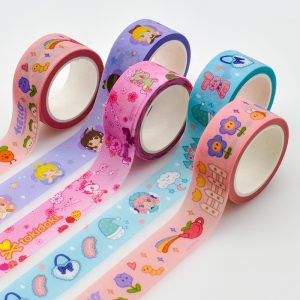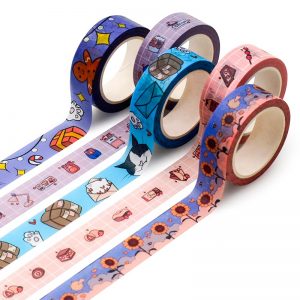 Product Name

Custom printed personalized design kawaii cute Japanese masking paper tape set wholesale buy decoration Washi Tape

Material

Paper, Karft Paper, PVC, Vinyl, PET, BOPP, Laser Film etc Wide Range for Your Selection.

Color

Welcome Customized,Let Your Washi Tape Unique. We offer Free artwork for choose if you have no idea of designs.

Size

customized size per your ideas. Commonly Used Size:

Width: 3mm/5mm/8mm/10mm/15mm/20mm/25mm/30mm/45mm/custom
Length:2/3/5/7/10/15/20m/Custom

Thickness

0.08mm/Custom

Core

26mm/32mm/Custom

Design and Notice

Free Design and Skilled Support

Surface Finishing

UV Spot,Hot Stamping,die cut, glitter,etc

Printing

Color Printing

 Feature

Eco-friendly,anti-counterfeit,waterproof,oil-proof,Durable,heat-resistant,anti-ultraviolet.

Usage

School,Scrapbook,Gift wrapping,Stationery,Planner,Bullet Journal, Card, Vision Boards, Home and wall decoration etc.

Package

On roll, sheet or individual piece, which as client's requirements

Shipping

By air, sea, international express, etc

Price

According to different materials/sizes/quantities/designs/ processes

MOQ

To avoid unnecessary waste of your time and money, for custom orders, the minimum order quantity for each design is not less than 10 rolls, ( 100 rolls for special craftsmanship)

Sample Cost

Free of ready made samples for quality checking. If sampling of your own designs, we need sample charge,can refund one time sample cost when you have official bulk order amount reach up to USD$5000.

Sample Time

Sample Process Time:2-3working days; Bulk Time Around 3-7working days.

Fast Delivery Time

2-3 days after got your order

Payment

By L/C, T/T, Western Union, Paypal, etc(Only 30% Deposit)
Washi tape:
Compared with general adhesive tape, paper tape has the surface changed to paper. Usually the stickiness is not strong, so the advantage is that it is easy to tear, and there will never be any residual glue after tearing off. Paper tape is generally made in various designs and colors, so it is widely used for pasting paper, beautifying, decorating, DIY and other purposes.
Taiwanese paper:
Color: yellow, red, black, white, blue
Temperature resistance: 110 degrees
Features: Can withstand the effects of Hejiao Shui, Erjiaben, Tianna Shui, etc.! Prevent degumming, discoloration, etc.!
Uses: Using washi paper as the base material, the paper is soft, suitable for sports equipment, rubber, plastic parts and construction sites, indoor and outdoor decoration, decoration spraying, and masking when painting. Moderate viscosity, good adhesion and concealment to most smooth surfaces, bends or corners, good workability, quick torn off after use, and no residual glue.
Good initial adhesion and good holding power, easy to adhere to all kinds of surfaces, low labor intensity, the masking film ~ masking paper can be firmly fixed in the required position to avoid sliding, falling off, etc.
Textured paper backing base: uniform thickness, good adhesion, and the tape will not break when wrapping around corners.
Back guessing infiltration filling: dense material, good solvent resistance, easy to tear, not easy to break, the tape can be removed as a whole after use.
Anti-adhesion treatment of backing material: The unwinding force is small and uniform, without excessive unwinding, and it is easy to use with the masking paper on the special cutter.
501 chrysanthemum water tape:
Substrate: Washi-based paper
Temperature resistance: 75℃x15 min
Main uses: general paint, spray paint, coating and shielding, electronic products, winding insulation, sealing, lightweight gift box packaging, and cleaning of noble items.
. Cover to avoid paint stains when spraying  . Substitute bandage
. Protection of glass joints with water repellent treatment. Art work paste
. Bandaging of electronic parts. Interior decoration stickers
. Sealing of light-packed products. For temporary protection of metal or acrylic
701 chrysanthemum water tape:
Substrate: Washi
Main application: This product is made of long-fiber and paper impregnated with a special release agent to increase softness and strengthen the ductility of the paper, and to apply adhesives and other special treatments to make it resistant to sunlight and ultraviolet rays for outdoor decoration. Intermediate materials must not be lacking during outdoor waterproofing and caulking construction. This product is supplied to the market in blue and green, with a width of 15mm and 18mm as the base, and a length of 18 meters as the general rule.